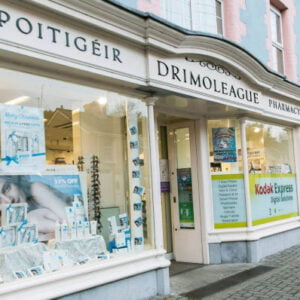 Drimoleague Pharmacy is a progressive pharmacy in the heart of West Cork, that offers prescriptions, healthcare, Kodak photo development, skincare and beauty.
Our mission is to improve and maintain the health and wellbeing of the West Cork community by providing the highest possible levels of care and service in a professional and personal manner.
In 2003 Sinéad Crowley MPSI bought the pharmacy and transformed it into a modern, efficient hub in the centre of Drimoleague. Together with her husband Richard Debarbouille (engineer) who concentrates on the pharmacy 'branding', they are pushing the boundaries of technology and service in a 360° West Cork pharmacy.